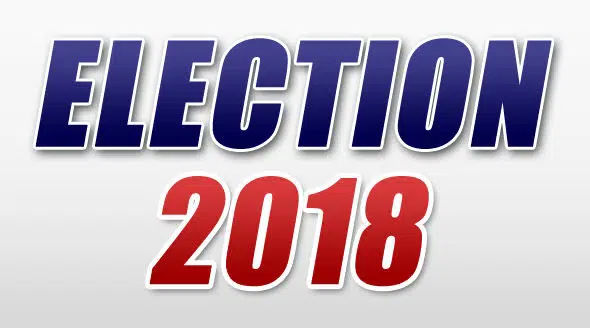 Indiana County Voters turned out for the mid-term election.
When 100% of the precincts reported in around 10:19 PM, it was announced that 59.78% of registered voters in Indiana County turned up to the polls on Tuesday.  That does not count absentee ballots.
The US Senate and Governor's races were called right when polls closed at 8:00, as Governor Tom Wolf won re-election over Scott Wagner.  John Fetterman, former mayor of Braddock will serve as the Lieutennant Governor, taking over for Mike Stack.  In the US Senator's Race, Bob Casey easily beat Lou Barletta across the state.  As far as Indiana County goes, the majority of the county's votes went to Wagner and Barletta.
For the U.S. Congress Race, Congressman Glenn "G.T." Thompson won both the new 15th congressional district and won Indiana County with 61.57% of the vote, beating IUP Professor Susan Boser, who had 38.24% of the vote.
Thompson said he was appreciative of the support he received across the new 15th district which now includes all or parts of 14 counties.  He said one of the primary things he will focus on will be a farm bill.
His opponent, Susan Boser, was happy that the campaign that she and Thompson ran focused on the issues, and she was happy that her first ever campaign went well.
For the 62nd District Seat in the State House of Representatives, Jim Struzzi beat Logan Dellafiora, with Struzzi picking up 58% of the votes, and Logan getting 41%.  Struzzi talked about what he wanted to focus on when he starts work in the State House.|
Logan Dellafiora congratulated Struzzi on a great campaign, and he feels that no matter what, the 62nd District is in good hands.
General election of November 6, 2018
(All results are unofficial until certified by the election board)
SUMMARY REPORT        2018 GENERAL ELECTION
RUN DATE:11/06/18     INDIANA COUNTY, PENNSYLVANIA
RUN TIME:10:20 PM     NOVEMBER 6, 2018
VOTES PERCENT
PRECINCTS COUNTED (OF 69) . . . . . 69 100.00
REGISTERED VOTERS – TOTAL . . . . . 49,418
BALLOTS CAST – TOTAL. . . . . . . 29,533
VOTER TURNOUT – TOTAL . . . . . . 59.76
STRAIGHT PARTY
Vote for Not More Than On 1
DEMOCRATIC (DEM) . . . . . . . . 5,359 36.27
REPUBLICAN (REP) . . . . . . . . 9,354 63.30
GREEN PARTY (GRN). . . . . . . . 21 .14
LIBERTARIAN (LIB). . . . . . . . 43 .29
UNITED STATES SENATOR
Vote for Not More Than On 1
BOB CASEY, JR (DEM) . . . . . . . 12,593 42.78
LOU BARLETTA (REP) . . . . . . . 16,300 55.37
NEAL GALE (GRN) . . . . . . . . 188 .64
DALE R. KERNS, JR. (LIB) . . . . . 338 1.15
WRITE-IN. . . . . . . . . . . 17 .06
GOVERNOR
Vote for Not More Than On 1
TOM WOLF (DEM). . . . . . . . . 12,705 43.21
SCOTT R. WAGNER (REP) . . . . . . 16,165 54.98
PAUL GLOVER (GRN). . . . . . . . 213 .72
KEN V. KRAWCHUK (LIB) . . . . . . 289 .98
WRITE-IN. . . . . . . . . . . 29 .10
REPRESENTATIVE IN CONGRESS 15TH DISTRICT
Vote for Not More Than On 1
SUSAN BOSER (DEM). . . . . . . . 11,203 38.24
GLENN GT THOMPSON (REP). . . . . . 18,038 61.57
WRITE-IN. . . . . . . . . . . 55 .19
REPRESENTATIVE IN THE GENERAL ASSEMBLY 55TH DISTRICT
Vote for Not More Than On 1
JOSEPH A. PETRARCA (DEM) . . . . . 182 95.79
WRITE-IN. . . . . . . . . . . 8 4.21
REPRESENTATIVE IN THE GENERAL ASSEMBLY 60TH DISTRICT
Vote for Not More Than On 1
JEFF PYLE (REP) . . . . . . . . 1,471 96.65
WRITE-IN. . . . . . . . . . . 51 3.35
REPRESENTATIVE IN THE GENERAL ASSEMBLY 62ND DISTRICT
Vote for Not More Than On 1
LOGAN DELLAFIORA (DEM) . . . . . . 8,851 41.37
JIM STRUZZI (REP). . . . . . . . 12,312 57.55
WRITE-IN. . . . . . . . . . . 232 1.08
REPRESENTATIVE IN THE GENERAL ASSEMBLY 66TH DISTRICT
Vote for Not More Than On 1
KERITH STRANO TAYLOR (DEM). . . . . 1,181 20.25
CRIS DUSH (REP) . . . . . . . . 4,635 79.48
WRITE-IN. . . . . . . . . . . 16 .27